Introduction 
A crowd formed unconsciously in the same place at the same time. Using a sociological approach, this is classified into several small groups according to certain rules. Then they will be seen that each one has its own characteristics. And in the process, we also notice that there are people who do not belong to any group. Their intentions, behaviors, and psychological states are clearly different from those of the group. Focusing on these people and analyzing them from a behavioral psychology point of view, the real humans emerged from them. These are their stories, just like you and me.
 同じ時間に同じ場所に無意識のうちに形成された群衆。これを社会学的なアプローチを用いて、一定のルールに従っていくつかの小集団に分類します。すると小集団それぞれに特徴があることがわかります。そしてその過程で、どのグループにも属さない人々がいることにも気づきます。彼らの意図や行動、心理状態は、その集団とは明らかに異なっています。このような人たちに焦点を当てると、そこにはリアルな人間像が浮かび上がってきました。
 これらは彼らの物語です。何となくあなたのような、私のような。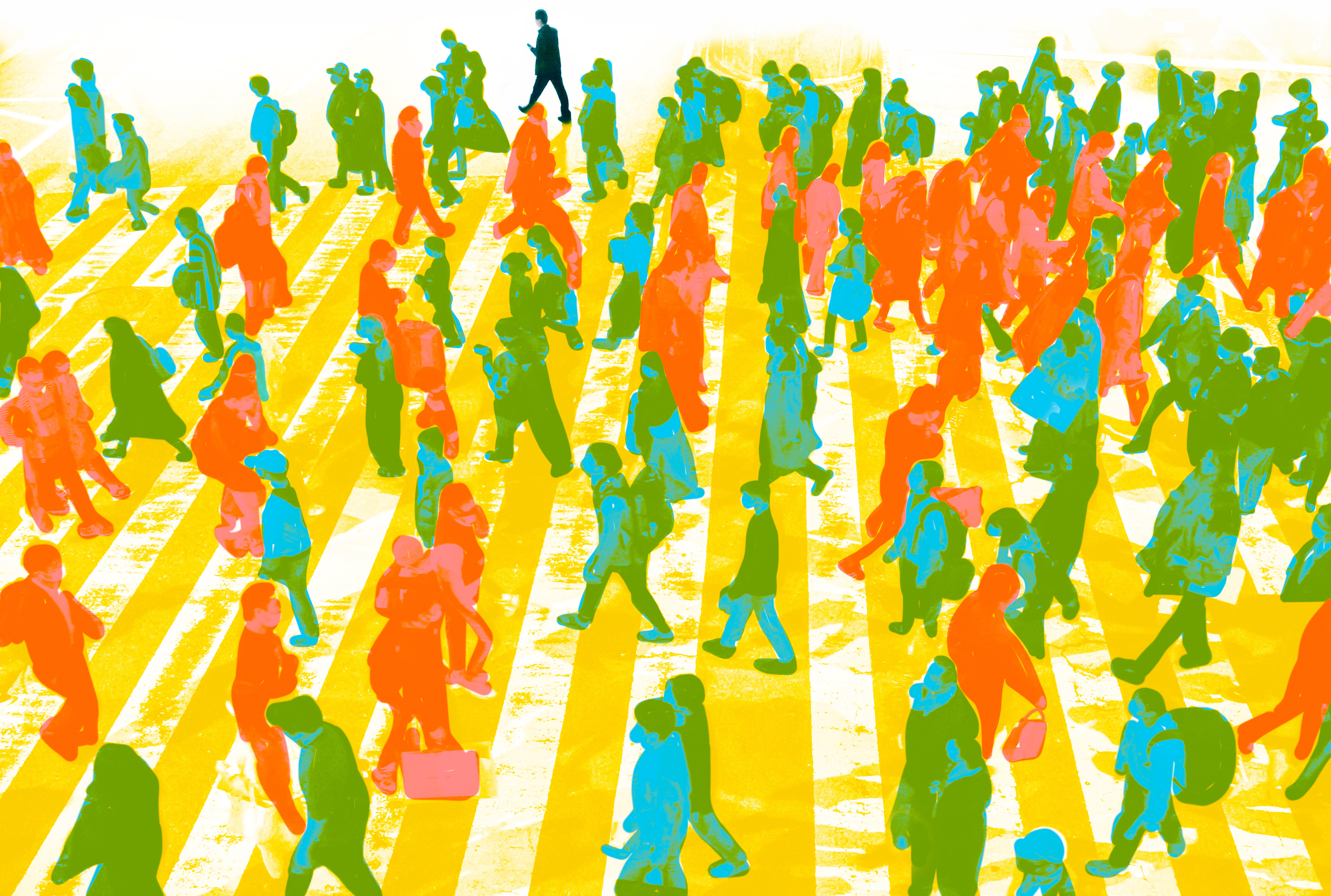 At the crosswalk 
What is life? That's what the person thought when they were waiting at the traffic light. Until now, that they had been going with the flow. They had a feeling that it was not their will, but they just had to watch them step and try not to fall out of that current. Responsibility and duty also discouraged them. The light turned green and they began to walk. And when they were halfway across the crosswalk, they made a momentous decision.
 人生とは何か?それは、信号待ちの時にその人が思ったことです。今までは、流れに乗って進んでできました。自分の意思ではないような気がしていたのだけれど、ただ足元を見て、その流れから落ちないようにしなければならないという気持ちがあったのです。責任と義務もその人を思いとどまらせていました。
 信号が青に変わり、歩き始めました。そして、横断歩道を半分ほど渡ったところで、重大な決断をしたのです。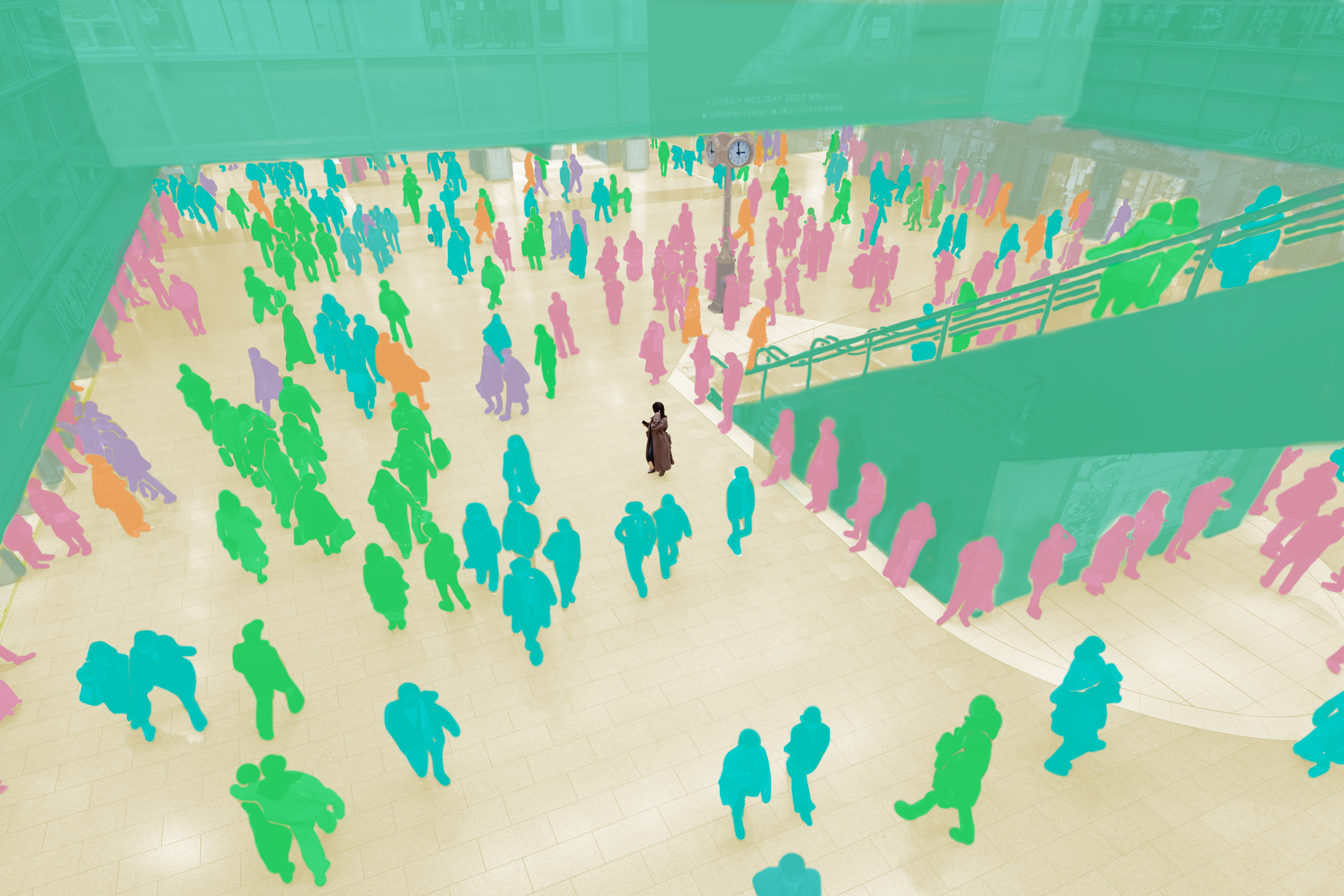 At the lobby of the station 
The lobby of the station was bustling. It was 3:00 pm on a Sunday afternoon, and there were a lot of people meeting up around the Golden Clock. This woman had arrived 15 minutes early for the meeting. After all, such is her character. Her mother was the same . If she arrives at exactly the right time, it's fine, but she always tries to act that way so that she won't be late even if she has to miss the train. On the other hand, the person she was meeting was her friend, but she was always late for the appointment. Her brother is the same. For her, 3:10 is usually the same as 3:00. Now, the woman who was being waited on was anxious and irritated to the max and was restless. Her aura was so great that no one could get close to her. Then, at 3:13, the women "smiled" at each other.
 駅のロビーが賑わっていました。日曜日の午後3時ということもあり、金時計の周りにはたくさんの人が集まっていました。この女性は待ち合わせに15分早く着きました。やはりそういう性格なのでしょう。彼女の母親もそうでした。きっちり時間通りに到着していれば良いのですが、電車に乗り遅れても遅れないように、いつもそのように心がけています。
 一方、待ち合わせの相手は彼女の友人でしたが、彼女はいつも約束の時間に遅れます。彼女のお兄さんも同じです。彼女にとっては、3時10分というのは大抵3時と同じなのです。
 さて、待たされていた女性は、不安とイライラがMAXになって落ち着きがなくなっていました。 彼女のオーラが凄まじくて、誰も近寄ることができませんでした。
 そして3時13分、彼女たちは「笑顔で」向かい合いました。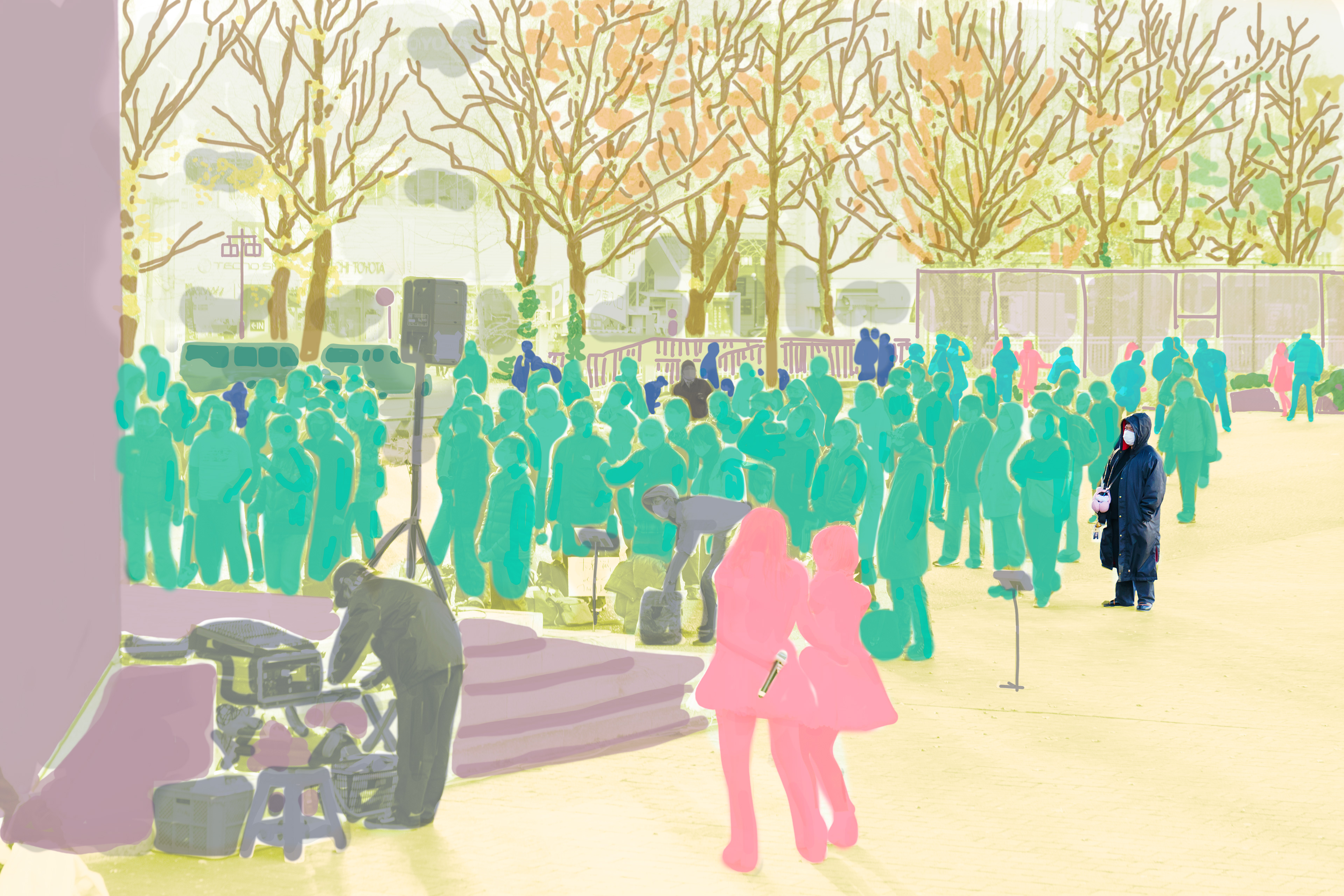 At the free live concert of a local idol 
Ever since he found out about the new local idol group, he had been obsessed with them. When he heard on social media that there was going to be a free concert, he headed to the place, which was two hours away by bullet train. He was planning to cheer them on from the front row. He arrived at the venue very early, so the front row was still empty. However, he was surprised to see the clothes of the people who had gathered there. Obviously, there appeared to be a sense of solidarity unique to the region, and he felt that it was exclusive. So he decided to watch from the outside, feeling ashamed. He had always been like that. He didn't know how he felt about things would make a big difference in his life.
 新しいローカルアイドルグループの存在を知って以来、彼は彼女たちに夢中になっていました。SNSで無料コンサートがあることを知り、新幹線で2時間の距離にあるその場所に向かいました。彼は最前列から応援するつもりでした。
 結構早い時間に会場に到着したので、最前列はまだ空いていました。しかし、そこに集まってきた人たちの服装を見て驚きました。明らかにこの地域特有の連帯感があり、排他的だと感じたのです。そこで彼は忸怩たる思いで外から見ることにしました。
 彼はいつもそうでした。物事をどのように感じるかということが人生を大きく変えることを知らなかったのです。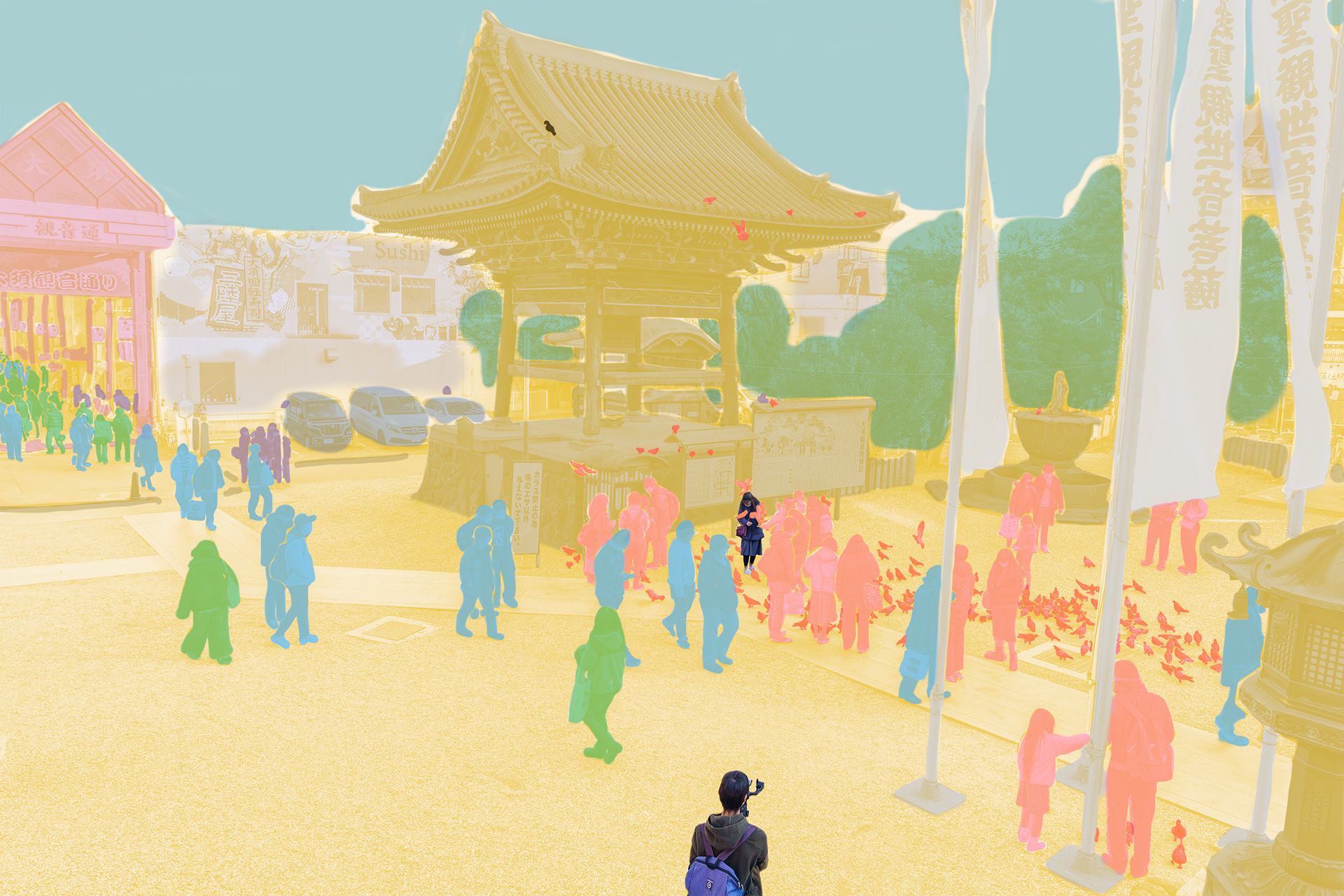 At the temple 
When something happens, there are many people who look at it sideways and pass by, some who approach it, and some who want to experience it for themselves, but he was different. When the girl was attacked by a pigeon, he quickly composed a picture in his mind, moved quickly to the best place, and started to take a video of the scene with no expression on his face. He was an observer, a bystander, and a recorder. However, he was unaware that he was being observed and recorded by me from an even more optimal position. It's not a matter of winning or losing, but somehow I feel like I've won him over. Hmm? Perhaps I was being observed by someone else too?
PX3 - PRIX DE LA PHOTOGRAPHIE PARIS / Fine Art / Honorable Mention